As they strive to meet ambitious targets for renewable energy and energy efficiency, many countries in Latin America and the Caribbean have turned to the Clean Energy Solutions Center for no-cost advice and guidance. Through its "Ask an Expert" service, the Solutions Center makes consultants available to help governments develop, design, and implement climate-friendly policies and strategies.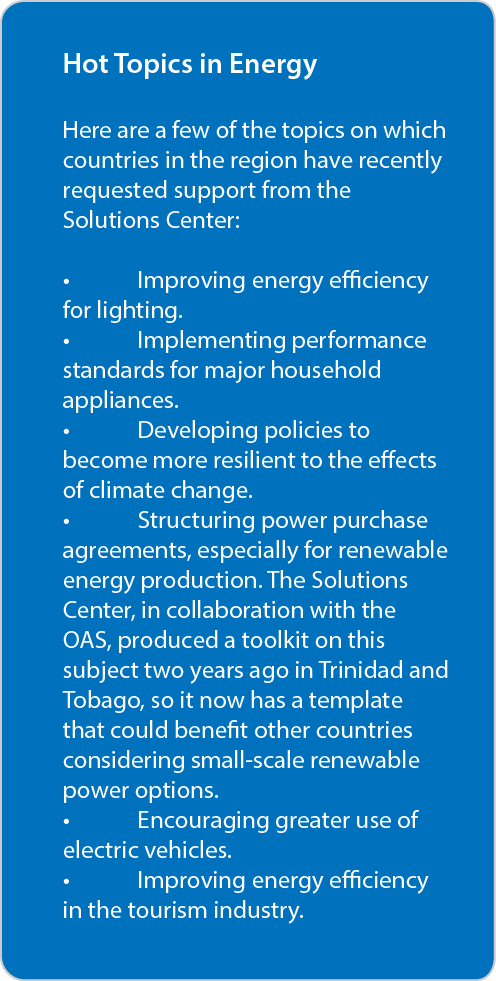 "We have a really deep bench of experts," said Victoria Healey, Project Director for the Solutions Center. Some of them live and work in Latin America or the Caribbean, while others do extensive consulting in the region and have a "deep understanding" of its energy-related issues and challenges, she explained.
Most interventions are short; projects typically involve up to 40 hours of consulting work, though for more complicated issues this can be extended to up to 120 hours. Although there are many sources of longer-term, more in-depth technical assistance available from development banks, cooperation agencies, and others, sometimes officials need help right away to better understand a problem so that they can craft stronger legislation or improve their policies, Healey said.
"It's a way to get quick answers," she said. In fact, Healey added, once someone fills out a simple request for assistance online, he or she will get an initial response within two days. "As long as it fits within our scope of work that we're allowed to do, and our mandate put forth by our funding partners, we can match-make them with an expert right away," she said.
Best of all, there's no cost to the client. The Solutions Center, which currently receives funding from the governments of Australia and Sweden, hires the consultants.The Clean Energy Solutions Center has collaborated with the Organization of American States (OAS), through the Energy and Climate Partnership of the Americas (ECPA), on various workshops and projects. For example, the organizations provided joint support for renewable energy efforts in Antigua and Barbuda, Belize, and Trinidad and Tobago, and have been developing a database of donor organizations that providing funding for clean energy in the Caribbean region.
The Solutions Center is an initiative of the Clean Energy Ministerial, a high-level global forum to promote clean energy technology. The operating agency for the Solutions Center initiative is the National Renewable Energy Laboratory (NREL), which is run by the U.S. Department of Energy and based in Golden, Colorado.