Building Resilience in the Face of Disaster

The names are all too familiar by now: Harvey. Irma. Maria. Nate. This year's list of tropical storm systems strong enough to get a name started with Arlene in April and barreled on through Rina in early November. The 2017 Atlantic hurricane season officially ends on November 30, but the massive devastation it wreaked will be felt for years to come. As the recovery process continues and reconstruction begins, two island nations in particular—Dominica and Antigua and Barbuda—are focusing on how to become more resilient in the face of climate change.
[photo: nbc news]
This was a hurricane season many countries will not soon forget. Eight hurricanes pummeled the Caribbean between June and October, including Irma and Maria—massive Category 5 storms that struck back-to-back in September.
The United States took severe hits from Harvey, Irma, and Maria, with a combined death toll of more than 200 people and damages estimated in the hundreds of billions of dollars. Puerto Rico suffered a pounding from both Irma and Maria, and many residents in that U.S. territory still lack electricity and running water.
Hurricanes slammed into other parts of the Caribbean this year too: Cuba, the Dominican Republic, Turks and Caicos, and the Leeward Islands, including Anguilla, Guadeloupe, Montserrat, Saint Kitts and Nevis, St. Martin and St. Maarten, and the U.S. and British Virgin Islands. Other islands took glancing blows that will still have an impact on their budgets.
Hurricane Katia, for its part, thrashed the east coast of Mexico—days after the country was hit by a powerful earthquake—and in Central America, Nate brought death and destruction to Costa Rica, Honduras, and Nicaragua.
Even with this scale of natural disasters, the experience of two islands stands out. Barbuda, the smaller of the two islands that make up Antigua and Barbuda, was virtually leveled by Hurricane Irma, its entire population left homeless and later evacuated to Antigua. United Nations Secretary-General António Guterres toured the damage in Barbuda in October and told reporters, "I have just witnessed a level of devastation that I've never seen in my life."
The next day, on a visit to Dominica—which dubs itself "The Nature Island"—Guterres again seemed overwhelmed at the scale of the damage, not only to buildings but to the landscape. "I have never seen anywhere else in the world a forest completely decimated, without one single leaf in any tree," he said at a news conference.
"This multiplication of hurricanes in the Caribbean this season is not an accident. It is the result of climate change," Guterres said. And, he said, "there is a collective responsibility in the international community to stop this suicidal development."
It is a message both Dominica and Antigua and Barbuda have been taking to the world in the last two months. Just days after Maria laid waste to his country, Prime Minister Roosevelt Skerrit of Dominica told the 72nd session of the UN General Assembly that he had just come from "the frontline of the war on climate change."
"We as a country and as a region did not start this war against nature. We did not provoke it," Skerrit said. "We do not pollute or overfish our oceans. We have made no contribution to global warming that can move the needle. But yet we are among the main victims."
In his address to the General Assembly, Prime Minister Gaston Browne of Antigua and Barbuda noted that all 14 Caribbean Community (CARICOM) countries together produce less than 0.1 percent of global greenhouse gas emissions. "We are the least of the polluters, but the largest of the casualties," he said.
However, he said, because his country is categorized as "high-income," it does not qualify for concessional financing and grants from international financial institutions and donor governments. "Where is the justice?" Browne asked.
During his visit to Dominica—which the World Bank classifies as a middle-income economy—Secretary-General Guterres talked about the need for the international community to rethink the way it evaluates countries and create innovative financial instruments that will help those that are "particularly vulnerable to external shocks."
"There must be a way to look into the debt of these countries and to transform it into an instrument of reconstruction and resilience," Guterres said in a joint news conference with Prime Minister Skerrit.
Resilience has long been a watchword for many member countries of the Organization of American States (OAS), especially Caribbean island nations, but this year's hurricane season has given the subject a renewed urgency. In the weeks since Maria, Prime Minister Skerrit of Dominica has set the bar especially high, vowing that his country of 72,000 residents will become the world's first "climate-resilient nation."
Speaking at a recent CARICOM-UN donor conference at UN headquarters in New York (see sidebar), Secretary-General Guterres proposed taking that goal even further. "Let us make the Caribbean the first climate-resilient region in the world," he said.
Dominica: "Eden is broken"
A mountainous island of rivers, waterfalls, and volcanoes, Dominica was once known as a lush paradise. Now, as Prime Minister Skerrit told the UN General Assembly right after the storm, "Eden is broken."
He described the scene in his country like this: "Our homes are flattened, our buildings roofless, our water pipes smashed, and our road infrastructure destroyed. Our hospital is without power and schools have disappeared beneath the rubble. Our crops are uprooted; where there was green there is now only dust and dirt. The desolation is beyond imagination."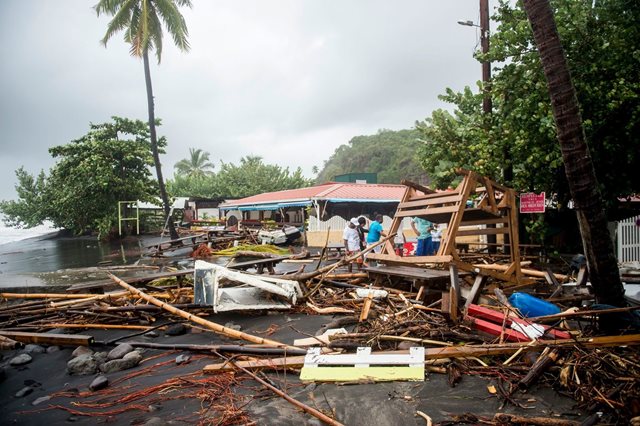 A preliminary assessment conducted by the World Bank, the UN, and other international agencies estimated damages and losses in Dominica from the hurricane at $1.3 billion, with public infrastructure, electricity and telecommunications networks, housing, and agriculture suffering the biggest impact. That estimate is equivalent to 226 percent of the country's entire annual gross domestic product (GDP), Skerrit said at the recent donor conference. And, he noted, these losses come on top of those sustained due to tropical storm Erika two years ago and Ophelia four years before that.
At the conference in New York, Skerrit laid out his government's detailed plan for rebuilding the nation and making it resilient. It's not just about buildings, but about "sustainable livelihoods," he said.
The Prime Minister implored the international donor community to take a different approach than it has in the past. "We cannot do aid delivery in the way we have done it," he said, noting that some projects envisaged after Ophelia—two major storms ago—were still underway when Maria hit.
With tropical storms continuing to intensify due to the world's warming seas, it would be impossible for a country like Dominica to buy enough insurance to protect it "against the magnitude of these injuries," Skerrit said. "Ultimately," he added, the only route available to us is to build a nation resilient to climate change, rather than to insure against damages and losses caused to one that is not."
At a news conference in October, Skerrit ticked off some of the factors that must go into becoming more resilient: building better, smarter infrastructure; making the electric power system less vulnerable; turning away from fossil fuels and toward renewable energy, such as geothermal resources; and adapting the island's agricultural crops and practices to better resist stronger storms, to name just a few of the steps he mentioned.
"We have a unique opportunity to be an example to the world, an example of how an entire nation rebounds from disaster, and how an entire nation can be climate-resilient for the future," Prime Minister Skerrit said. "We did not choose this opportunity, we did not wish it. Having had it thrust upon us, we have chosen, actively and decisively, to be that example to the world." [photo: NY Times]
Antigua and Barbuda: "Climate Refugees"
"For the first time in over 300 years, there is now no permanent resident on Barbuda." That was the stark reality Prime Minister Browne described to the UN General Assembly in September, and it's still the case today on the 62-square-mile island. In a video produced for the recent donor conference in New York, a woman from Barbuda says that the first time she went back for a visit after the storm she was unable to get her bearings amid all the rubble: "I had to ask for directions to my own house."
Barbuda's larger, sister island escaped the brunt of Irma, so Barbuda's approximately 1,600 residents were evacuated there, where most remain in government shelters, according to Ambassador Sir Ronald Sanders, the Permanent Representative of Antigua and Barbuda to the Organization of American States and the United States. In addition, he said in a telephone interview, about 3,000 people from Dominica fled to Antigua after Hurricane Maria. Most are them are renting homes or staying with family members or other residents, but the government of Antigua and Barbuda is absorbing the children into its schools and providing services to the elderly.
"In the Caribbean, we now have a new category of citizens—climate refugees," Prime Minister Browne told the recent donor conference, describing those who have been left "homeless, jobless, and helpless" by Category 5 storms. "These people have been forced to flee their own lands. Their future is uncertain and their prospects unclear," he said.
Browne said his country is "determined to rebuild Barbuda not only so it can stand up to the assaults of climate change, but as an example of a fully climate-resilient, totally green, and organic island, one that is productive, income-generating, and economically viable."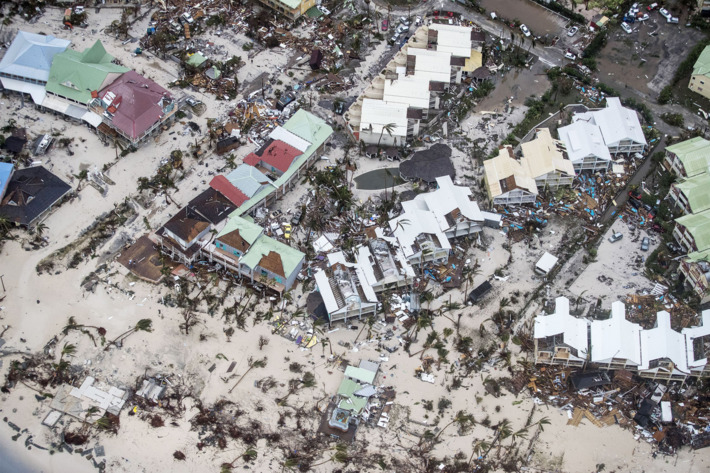 "But we contend that liability for the destruction of Barbuda and dislocation of its residents resides with those who continue to use fossil fuels excessively, those whose carbon emissions have unleashed the demons of climate change," the Prime Minister added. "Justice and fairness requires that the burden of building a more climate-resilient community should not fall to the victims of climate change alone."
As Ambassador Sanders explained in the recent interview, Antigua and Barbuda needs grant funds, not just more loans at commercial rates the country cannot sustain. "We're already highly indebted because we've had so many of these storms in the past," the diplomat said. "That is why we have to look to the international community to live up to their responsibility and their obligations as the perpetrators of this problem."
But at the end of the day, no matter what help it ultimately receives from the international community, Antigua and Barbuda will come back, Ambassador Sanders said. "It's our country. Whether people pay for the damage they have caused or not, we still have to rebuild it. It will take years, it may take a generation.…. We lost, overnight, 300 years of human habitation. You can't rebuild 300 years in a day. You can't even do it in a year. It's going to take a while." [Photo: NY Magazine]
Cover photo: CNN