Panama Adopts a National Hydrogen Strategy
Friday, July 28, 2023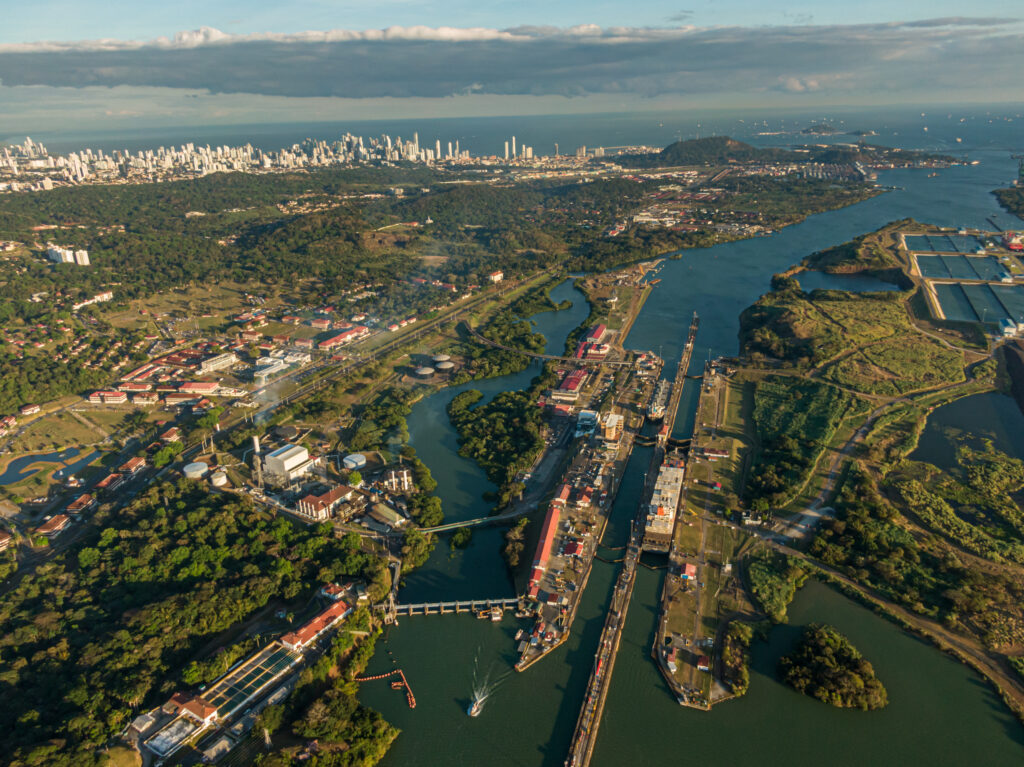 With the planet breaking heat records and countries under increasing pressure to meet their decarbonization goals, action on green hydrogen seems to be on the rise everywhere. One small country that is taking some big steps—on a national, regional, and global level—is Panama.
Like many other countries in the region and beyond, Panama sees the potential for green hydrogen to help accelerate the energy transition and decarbonize the economy.
Its new National Strategy on Green Hydrogen and Derivatives, which was officially approved by President Laurentino Cortizo and his cabinet this month, lays out a series of specific goals for the short, medium, and long term. Building on its natural advantages, Panama plans to focus its first green hydrogen production efforts on supplying the shipping industry, followed by aviation and trucking.
Hydrogen, the world's most abundant element, is an efficient and versatile energy carrier. Green hydrogen—also known as renewable, clean, or electrolytic hydrogen—refers to hydrogen produced through electrolysis, a process that uses electric current from renewable energy sources to split water molecules into hydrogen and oxygen. The resulting hydrogen can be used to produce green ammonia and other derivatives such as clean e-fuels.
Panama's strategy calls for producing 500,000 tons of green hydrogen or its derivatives in the country by 2030 and four times that amount by 2040. The strategy identifies the maritime industry as an especially promising market for clean fuels, as shipping companies seek to reduce their carbon footprints. 
The bunkering sector supplies fuel to thousands of the vessels that go through the Panama Canal every year. The goal under the new strategy is for 5% of the bunker fuel sold in Panama to come from green hydrogen or its derivatives by 2030. That number would increase to 30% in 2040 and 40% in 2050.
The aviation sector is also a potential market for clean fuels in a country that serves as a regional hub for air travel. Long-haul trucking is another candidate, since a large volume of shipped cargo bound for Central America is unloaded in Panama and trucked to its final destinations. By 2050, the goal is for 30% of the fuel used in the country's aviation and heavy transport sectors to come from green hydrogen or its derivatives.
Not all of this fuel would be made in Panama. Rather than aiming to become a major producer, the country sees itself as a "sustainable energy hub" where green hydrogen produced elsewhere in the region can be delivered to the rest of the world, taking advantage of the country's port infrastructure and experience in logistics.
Rosilena Lindo, Panama's Deputy National Energy Secretary, said that by some estimates, Latin America could someday supply enough green hydrogen and derivatives to supply a third of the future demand in Europe and Asia. Panama, she said, wants to create a "supermarket" for clean fuels, offering green hydrogen-based products from Chile, Colombia, Brazil, Uruguay, or other countries. 
"For us, the priority for our hub is not production. The production is an added value," Lindo said in a recent interview with the Energy and Climate Partnership of the Americas (ECPA). "What is extremely important for us is to become that supermarket for clean energy."
An OPEC for Green Hydrogen
In the meantime, Panama believes it is urgent for countries to intensify cooperation on issues related to green hydrogen. To that end, it is spearheading an initiative to create a Hydrogen International Trade Organization, or HITO (the acronym means "milestone" in Spanish).
During an ECPA webinar in June and the subsequent interview, Lindo said that HITO could serve as something akin to the Organization of Petroleum Exporting Countries (OPEC) but based on an energy source that benefits the planet. It would provide a forum for governments to work out the rules of a game that's still in its early stages.
"We see it as a space where all of us as a whole can decide where we want to go," she said. "It's a matter of being able to learn in this new market together."
Among the topics such an organization could address are worldwide standards for production of green hydrogen, import and export regulations, certification procedures, pricing frameworks, energy access issues, and methodologies for calculating carbon reduction. Unlike an industry association, she said, this would be an official forum with the backing of countries' foreign ministries.
Lindo said it is important for the organization to be inclusive and to provide a seat at the table for any country that may be interested. Unlike with fossil fuels, she said, the raw materials to produce green hydrogen can be found pretty much everywhere. "Everybody has water, everybody has sun, everybody has wind, to a greater or lesser extent."  
Panama has been discussing the idea of a hydrogen organization informally with dozens of countries in Latin America and the Caribbean as well as in other regions. It is drafting an agreement to create the organization and hopes to have it ready for signature by this year's Conference of the Parties to the United Nations Framework Convention on Climate Change (COP28), which will begin on November 30 in the United Arab Emirates.
According to Lindo, the agreement would need to be signed by at least three countries and ratified by their legislative branch to take effect. Once it is in effect, the members would begin to define the rules about how the organization would operate. 
Conversations about green hydrogen are already well underway across the Americas. In fact, the Third Hydrogen Congress for Latin America and the Caribbean, called H2LAC 2023, took place in June in Rio de Janeiro, Brazil.
Hosted by New Energy Events and the Inter-American Development Bank (IDB), the conference brought together more than 300 participants, including high-level energy officials, regulators, and representatives of banks, academic institutions, and the private sector.
Lindo, who participated in a panel at the event, described H2LAC attendees as "professionals with passion" who believe that by innovating and cooperating, Latin American and Caribbean countries can seize the opportunity that green hydrogen provides to reduce greenhouse gas emissions. 
Many challenges remain, of course, chief among them the need to make green hydrogen and its derivatives cost-competitive with other fuel sources. However, Lindo said, new breakthroughs in technology are happening all the time, and prices will come down.
In Panama, there are currently 10 projects in the design or exploration phase involving green hydrogen or its derivatives, according to Lindo, who said that the first production is expected to come on line in 2025.
The National Strategy on Green Hydrogen and Derivatives establishes 30 lines of action for the country to take to accomplish its objectives for this sector—steps as diverse as adjusting its regulatory framework, offering opportunities for technical training, and raising awareness about green hydrogen among communities where these types of projects may eventually be built. 
This is a time of "technological disruption," Rosilena Lindo said, and nobody knows for sure whether it will ultimately be green hydrogen or one of its derivatives or some other type of clean source of energy that ends up gaining a market advantage over fossil fuels. But, she said, countries must act now to prepare for the changes to come and to support each other's efforts to decarbonize the planet and promote sustainable development.
---
Cover Image: As it embarks on a strategy for green hydrogen, Panama will focus on its natural advantages, starting with the maritime industry.