Solar panels have appeared on the rooftops of a number of community organizations on the Caribbean island of Antigua, thanks to a high-energy development economist and a small but pivotal grant through the Energy and Climate Partnership of the Americas (ECPA).
For Ruth Spencer, who has spearheaded the community solar project, renewable energy is not an abstract concept but an urgent answer to critical development problems. "If we don't convert to green energy, nothing is going to happen here. The poor are going to get poorer," she said in a telephone interview.
Like many of its neighbors, the twin-island nation of Antigua and Barbuda has some of the highest electricity prices in the world, with rates several times higher than in the United States and incomes considerably lower. "We can't be an economic powerhouse with these high energy bills," Spencer said.
High energy costs have consequences not only for the economy but for the family and society too, she explained. When people can't pay their bills and have their electricity cut off, their children can't study in the evening and they're more likely to hang out on the streets and get into trouble.
"The thing is," she added, "we have this free resource. All this sunlight, burning us up—we could be using it for good."
Spencer knows the value of solar energy firsthand. She owns a 14-unit guest house on the northern coast, where she rents out small apartments to tourists and medical students. Partly because of guests' heavy reliance on air conditioning, the property's electricity bills were as high as (US) $3,000 per month. A few years ago, with a grant from the Caribbean Export Development Agency, she was able to install a rooftop solar photovoltaic (PV) system and cut her electricity costs by 75 percent. As part of that grant, she also started raising public awareness about renewable energy.
When she learned about a small-grants initiative to promote sustainable communities—run by the Organization of American States (OAS) through the Energy and Climate Partnership of the Americas, with funding from the United States—Spencer saw it as an opportunity to further demonstrate the potential of solar energy at the grassroots level. It's not that people don't know about solar, she said, but many "didn't realize that an ordinary person could have access to it."
Spencer received a $40,000 grant through the OAS/ECPA project, along with a $10,000 supplemental grant from her country's Department of the Environment. Taking that $50,000 investment, she has networked, rounded up volunteers, and in some cases "piggybacked" onto other projects. So far her efforts have helped provide rooftop solar PV systems for eight small community organizations or churches, with two more still to come.
Most of these are very small, 1-2 kilowatt hour (kWh) systems. Spencer's goal was to target nonprofit organizations that were doing good work and benefiting the community but weren't necessarily well off enough to run air conditioners.
Each installation has brought together teams of volunteers, who have learned practical new skills in the process. At a church called Vibrant Faith Ministries, some members were inspired by the opportunity for hands-on participation—to get up on the roof and help install the panels, said Elton Williams, the church's senior elder. "That is what really got them very motivated," he said.
Preserving the environment is a central message at Vibrant Faith, which holds services under an open-sided shelter among the trees, where the congregation can hear birds sing during the day and bats flutter at night. The church also has camp-like dorms where young people sometimes stay over the weekend, and it eventually hopes to set up a care center for the elderly, preparing meals using organic produce grown in its own garden.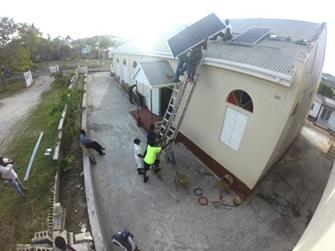 Even though its energy needs are modest—mainly some lighting and a sound system for its "energetic" worship services—the church was paying about (US) $300 per month in electricity; the solar panels have cut the bill by more than half. That has helped the church's members understand the potential for savings even on a small scale, Williams said.
Amarah Christian, a trained solar installer who attends the church, also shares his knowledge with church members about how to keep their costs down by taking such small steps as buying energy-efficient lighting and appliances. A self-described "energy scrooge," Christian believes in what Ruth Spencer is doing, and has provided technical advice and installation assistance on a number of her projects at far below his usual rate.
Potters Seventh Day Adventist Youth group solar installation
Spencer's initiative has benefited different types of churches that value the environment and are trying to make a positive social impact on the community. "All these ministers have committed to really pushing renewable energies," she said.
The Potters Seventh Day Adventist Church, for example, is working to mitigate the effects of drought by building a community cistern with a grant from the Global Environment Facility (GEF). The solar panels provided through the OAS/ECPA project will provide power to pump water from the cistern. Members of the church's active youth group have been involved in every step and feel a sense of "buy-in," Spencer said. "I didn't envisage the kids learning so many skills," she added.
Diann Black-Layne, who leads the country's Department of the Environment and serves as Ambassador for Climate Change, said many people in Antigua and Barbuda have the idea that solar panels don't work, and the community solar project is helping to change minds. Every launch event, she said, has been front-page local news. "The impact has been tremendous."
In fact, when Black-Layne learned that one set of solar panels had been stolen a few weeks after being installed—this was at the Antigua and Barbuda Association of Persons with Disabilities—she immediately saw the bright side: At least people understood the panels were valuable. (Plans are underway to replace the stolen equipment, once a security system is in place.)
Black-Layne is working to put a multimillion-dollar Sustainable Island Resource Framework Fund into operation; it will include a component to offer accessible loans to low- to middle-income earners for residential solar and hurricane-readiness projects. She said Spencer's community solar project is providing detailed, practical information that is proving important in structuring these low-interest loans.
Richard Huber of the OAS, who runs the Sustainable Communities in Central America and the Caribbean project, sees that kind of input as added value—an example of how even a small grant can have an outsized impact. "Things are cooking," he said. "This is an exciting project."
*Ruth Spencer was recognized with the Energy Globe Award in 2015 for her solar energy deployment efforts in Antigua and Barbuda. In honor of Women's International Day, The ECPA Clearinghouse takes this opportunity to congratulate all businesswoman that strive to advance renewable energy in Latin America and the Caribbean.