Getting Carbon Out of Buildings
Thursday, February 11, 2021
An energy technology company called BlocPower hopes to do for buildings on a large scale what Tesla is doing for automobiles. "You have to take fossil fuels out of the buildings, just like we have to take them out of cars," said Donnel Baird, CEO of the Brooklyn, New York-based startup. "There's just no way to deal with climate change otherwise."
Buildings are major emitters of greenhouse gases; think of all those furnaces and water heaters burning natural gas, propane, or oil. In the United States, the residential and commercial sectors account for 27% of direct natural gas consumption (not including gas-generated electricity), according to the U.S. Energy Information Administration.
As important as it is to increase renewable energy production and convert to electric transportation, the task of significantly reducing carbon emissions will also require cutting emissions in buildings, Baird said in an interview with the Energy and Climate Partnership of the Americas (ECPA).
"There's just no path to do this unless you overhaul all the buildings and make them more efficient", he said. "I think if we don't get efficiency right, there's no path to averting climate disaster."
Baird founded BlocPower in 2012, while he was attending Columbia Business School, and so far, the company has greened more than 1,000 structures—apartment buildings, churches, synagogues, and schools—primarily in low-income neighborhoods in New York City.
Before starting BlocPower, Baird worked for years as a community organizer and a political organizer, including on Barack Obama's 2008 campaign. Drawing on that background, he built a team that began to work with communities to help them understand the value of energy efficiency, building the trust needed to bring projects to fruition.
"You're selling future energy savings," he explained, "so people have to really trust that you're going to deliver."
While Baird struggled to attract venture capital in the early years, his company now has some high-powered backing, including early investors in Uber, Twitter, and AirBnB. BlocPower recently raised $65 million in debt and equity financing, and Baird is now ready to start scaling up the enterprise to target buildings in 20 cities. Eventually, he wants to enable millions of buildings across the country to become "greener, smarter, and healthier."
Environmental Justice
Baird's focus on buildings in low-income areas is based on both personal conviction and practical considerations.
On a personal level, he knows what it's like to be poor. His parents emigrated from Guyana before he was born and got their start in the United States by working menial jobs. When Baird and his sister were small children, the family lived in an apartment building in Brooklyn that lacked a functioning boiler; the only heat came from leaving the oven door open.
"That was kind of my early introduction to environmental justice and the relationship between poverty, energy equipment, and health," Baird said during a recent podcast published by Greentech Media. 
Targeting low-income areas is not only the just thing to do; it also makes sense because these buildings tend to be the most energy-inefficient, Baird said in the interview with ECPA. In many cases, owners haven't been able to afford proper maintenance and have lacked access to the capital and technical expertise necessary to do upgrades.
BlocPower did an analysis of 5 million buildings throughout the country and calculated that, collectively, they were wasting as much as $100 billion a year—money that, as Baird pointed out, could instead be invested in creating jobs and rebuilding the country's infrastructure.
"There's better uses for this capital than paying for fossil fuels, particularly in communities that are financially underserved and are low income."
The Business Model
As Baird describes it, his company is taking "the best innovations from Silicon Valley and the best innovations from Wall Street, and the best practices from the civil rights movement and the community organizing tradition" and applying them to a central challenge: "How do you bring people together to solve a big problem?" 
Energy efficiency efforts have been difficult to take to scale in the past, partly because of the high cost of engineering assessments for each building and the difficulty in obtaining sufficient financing, according to Baird.
Thanks to BlocPower's investors, he said, the company has been able to develop engineering software that can handle the initial building-specific assessment, using big data to analyze the feasibility and potential savings of energy upgrades. The software platform will eventually allow millions of property owners to search for their buildings in the database and generate a free report on what kinds of steps they could take to reduce carbon emissions and cut energy costs, Baird said.
BlocPower has also developed a new financial tool—in partnership with Goldman Sachs, among other institutions—that will make the financing side easier and more affordable, according to Baird. The financing can even be set up so that local community groups can have an ownership stake in the equipment.
In some ways, BlocPower's business model is similar to that of traditional energy service companies, which make the upfront investment in energy efficiency projects and derive their income over time, through customers' utility bills. Even while they are paying back the investment, customers pay much less per month than they did before, due to the energy savings.
Where BlocPower stands out, Baird said, is in the company's use of modern software and technology, analytics, machine learning, and cloud computing, which he said will make it possible to implement energy improvements in buildings on a massive scale. And a massive scale is what has to happen, he said, given the scope and urgency of the climate change problem. 
Technological Developments
The projects BlocPower manages vary from site to site, but one critical piece of equipment it often installs is a modern electric-powered heat pump, which Baird calls a "silver bullet" for greening buildings.
Heat pumps have been used for a long time for both warming and cooling—they bring hot air into a space or remove it, depending on the season—but until a few years ago, they were not effective against extreme cold. That meant that in places with severe winters, buildings still had to have a backup system to be able to burn oil or gas when the temperature dropped low enough.
The development of heat pumps that can work at very cold temperatures means that a building's heating, cooling, and hot water systems can run entirely on electricity, including from solar or wind power with battery storage.
"You could run that building 100% green," Baird said. "You couldn't do that four or five years ago, because the technology wasn't mature enough to function when it was freezing cold."
That is not to say that heat pumps are limited to areas with harsh winters. Because they also cool spaces and heat water, they can work for buildings anywhere. Just as some countries in the global south never invested extensively in a system of telephone land lines but went straight to cell phones, Baird hopes that countries expanding their building infrastructure will skip fossil fuels altogether and go straight to clean electricity.
Of course, the more that buildings move toward electrification, the more important it is to ensure that the electricity system is strong, stable, secure, and smart. "At a certain point, we're going to have to upgrade our nation's electricity grid to where it can support all the increased electricity demand," Baird said. He hopes it will be possible to pass bipartisan smart-grid legislation to make long-overdue improvements.
Focus on Climate, not Kilowatts
The nonprofit organization New Buildings Institute (NBI) has been promoting better energy performance in buildings for more than two decades. Until just the past few years, according to NBI Research Director Cathy Higgins, the focus in this sector has largely been on kilowatt hours: How much energy is being used? The improvements that have resulted from this process have made new buildings much more energy-efficient and comfortable than before.
Now, as a growing number of U.S. cities have adopted ambitious climate goals, the conversation has broadened to look at not just energy use but carbon impact, Higgins said. The question then becomes, "How can you have a climate action plan and continue to burn fossil fuels in your building?"
The solution, she said, is to run buildings on electricity produced by an ever-cleaner grid. In the United States, dozens of cities—more than 40 in California alone—have developed regulations or incentives to spur decarbonization of buildings, according to Higgins. Seattle became the latest large U.S. city to take this step, with an update of its Commercial Energy Code this month.
Higgins coauthored a new NBI technical study, The Building Electrification Technology Roadmap (BETR), which is intended to help guide cities, utilities, and other organizations through this process.
All the technology needed for the electrification of buildings already exists, Higgins said, but three key elements are needed to move the process forward faster: policies that require or facilitate all-electric technologies in buildings; delivery models (such as BlocPower's) that will allow for faster, more agile, implementation; and greater market confidence and awareness.
A Model to the Community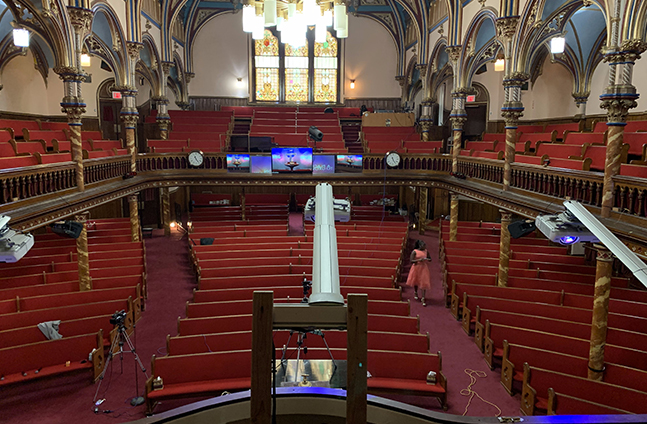 Cornerstone Baptist Church, located in the Bedford-Stuyvesant section of Brooklyn, serves as somewhat of a community hub, at least in normal times. In addition to holding worship services for a congregation of over 1,200, it has a gymnasium and runs programs for seniors, youth, parents—across the "cycles of life," as Pastor Lawrence E. Aker III put it. Recently, the church even became a temporary vaccination site, something it will do again later this month so that people can get their second dose.
To Aker, the idea of community encompasses not just the immediate neighborhood but also the planet, and he believes his church can be a model to others on reducing emissions. In the last couple of years, Cornerstone has been working with BlocPower to implement energy upgrades to the main church building, which dates back to the end of the 19th century, as well as to the large parsonage, built in the early 1900s.
The work is being done in phases, and the pandemic has slowed progress (in addition to putting in-person worship services on hold for the past few months). So far, though, the church building has a new cooling system, and in the parsonage, a new heat pump system has replaced the boiler—an improvement expected to cut utility bills by more than half. Through a long-term lease arrangement, the church will be able to pay back BlocPower over 10 to 15 years.
"We're very excited about the new energy-efficient way to keep the home comfortable," Aker said. A similar retrofit will eventually be done on the main church building, which still relies on oil-fired heating.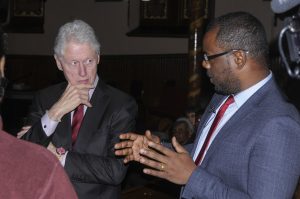 In December 2019, former U.S. President Bill Clinton visited Cornerstone on behalf of the Clinton Foundation to look at the energy efficiency upgrades made so far. During that visit, Aker said, Clinton encouraged him to be "the green pastor."
"I'd definitely like that mantle," Aker said, adding that he looks forward to completing the project and sharing Cornerstone's experience with leaders of other churches. In a video on the Clinton visit, the former president praised the BlocPower project as a way to do something in response to climate change. "This is a picture through which you can see a better future," Clinton said. 
---
Image credit/source (top to bottom):
(3) Cornerstone Baptist Church
(4) Raymond Hagans/BKReader. In this photo, Donnel Baird is discussing BlocPower initiatives with former President Bill Clinton, during a visit in 2019 to Cornerstone Baptist Church.