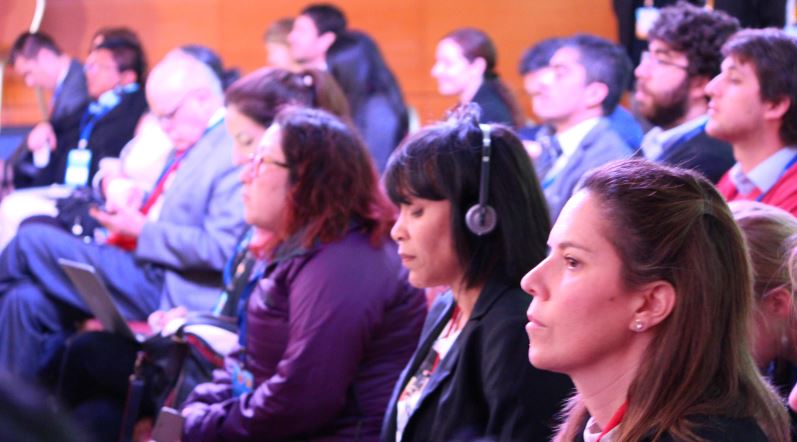 VIÑA DEL MAR, Chile—For a window into the region's energy diversity, look no further than the working sessions held during the Third Ministerial Meeting of the Energy and Climate Partnership of the Americas (ECPA).
Delegations from the 25 countries represented talked about a wide range of energy-related challenges and opportunities they are facing, from the need to expand transmission lines across borders to the importance of incorporating energy into the school curriculum. Chilean Energy Minister Andrés Rebolledo guided the discussions to cover the seven central pillars of ECPA, beginning with energy efficiency and renewable energy and moving on to efficient use of fossil fuels, energy infrastructure, energy poverty, regional energy integration, and energy research and innovation.
Many of the countries stressed that they are working to reduce energy use in the transport sector—typically a major source of greenhouse gas emissions—by improving public transportation, replacing government fleets, or providing incentives for fuel-efficient vehicles, to name just a few of the approaches being taken.
Costa Rica is developing a national strategy to incorporate electric vehicles both for private use and public transportation, and the country now has 14 charging stations in place. Trinidad and Tobago, for its part, is encouraging the use of vehicles that run on compressed natural gas; it has also removed import duties and other taxes on hybrids and electric vehicles. Barbados hasn't eliminated these taxes, but it has lowered them.
"We recognize that if we are going to build a sustainable energy future in Barbados, we will have to move toward electric vehicles in the transportation sector," said Darcy Boyce, whose portfolio as Minister in the Office of the Prime Minister includes Energy, Immigration, Telecommunications and Invest Barbados. "Barbados is a small country. An electric vehicle would be able to be driven on one single charge," Boyce explained.
For Paraguay, the higher costs of electric vehicles are a barrier, according to Deputy Minister of Mining and Energy Mauricio Bejarano. "As long as the costs don't come down, it's very difficult in a developing country such as ours for these vehicles to compete," he said, noting that his country is particularly interested in finding more sustainable solutions for the trucking industry and public transportation.
Making buildings more energy-efficient is another step several countries are taking. Saint Vincent and the Grenadines started by doing a study of government buildings, to see where the most savings could be realized. "However, we recognize that the elephant in the room is that of our high cost of electricity," said Jerrol Thompson, Adviser to the Prime Minister.
Mexico has developed a "robust" system of regulations and standards on energy efficiency, backed by a network of laboratories to test whether a particular water heater or light bulb or motor being sold on the market meets the standards. Odón de Buen Rodríguez, Director General of the National Commission for the Efficient Use of Energy (CONUEE), said Mexico has been working with other countries to share its technical experience and promote greater harmonization of efficiency standards.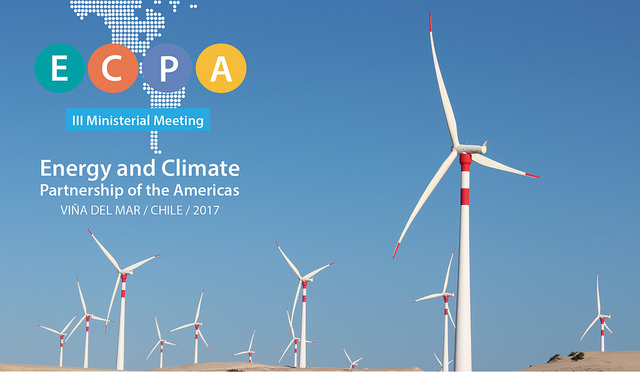 Renewable energy is another area where the countries in the region are moving aggressively. Several Caribbean island states are harnessing volcanic energy to develop their geothermal potential—as is Chile, which recently opened a geothermal energy plant high in the Andes.
Solar and wind energy are in abundant supply in the Caribbean, and many of the countries are taking
advantage of these resources. But that doesn't necessarily mean it's always easy. On a small island like Saint Lucia, it may be hard to spare the space for large solar or wind farms, noted Stephenson King, Minister of Infrastructure, Ports, Energy and Labour. "Land for energy must be weighed against the backdrop of the displacement of agriculture, tourism, and manufacturing, which today is the backbone of the Saint Lucian economy," he said.
How to accommodate "intermittent" energy sources like wind and solar while still ensuring a steady supply of electric power is another issue on the minds of the region's energy authorities. "We are going to have some type of mix," said Fernando Díaz, Panama's Director of Electricity at the National Energy Secretariat, adding that one possibility is to produce some electricity with natural gas.
Argentina, which has made a major push into renewable energy, echoed Panama's point about tapping into different energy sources. "We all want to have a flexible transmission system," said Argentina's Minister of Energy and Mining, Juan José Aranguren. He emphasized the need to ensure that the transition toward other technologies is "economically viable," noting that thousands of jobs depend on conventional energy sources.
Hydropower accounts for much of the region's electricity production, and changing weather patterns can put supply at risk. Deputy Energy Minister Rutty Paola Ortiz of Colombia noted her country's "extremely high dependence" on hydro sources and said the country has been grateful for interconnection lines in times of short supply. Describing one such instance, she said, "At the moment Colombia needed it, Ecuador was there."
The head of the United States delegation, Deputy Energy Secretary Dan Brouillette, mentioned the U.S. government's support for Connecting the Americas 2022 (Connect 2022), noting that this ECPA initiative is now at the halfway point. Brouillette also stressed the need to strengthen and modernize the energy infrastructure to increase energy security.
Canada is putting a strong emphasis on innovation and technology, both to develop renewable sources and to produce oil and gas in a cleaner way, for example by reducing methane emissions. Frank Des Rosiers, Assistant Deputy Minister of the Innovation and Energy Technology Sector, offered to work with other countries in the region to see how the technologies Canada is using can be adopted more broadly.
The challenge of making electricity available to all citizens is a concern for several Latin American countries. Olga Otegui, Uruguay's Director of Electric Power, noted that while her country covers 99.7 percent of its population, that's not enough. "We only have a little bit to go, but that little bit is the most expensive part," she said, adding that those who lack electric service—or have inadequate service—live in some of the remotest areas and belong to the poorest households.
As Ecuador's Minister of Electricity and Renewable Energy, José Medardo Cadena, put it in an interview,
"These are families. They have the right the same as everyone to have access to quality, sustainable energy. This is an important challenge for the region."