Buildings are energy guzzlers: In the United States, they account for 38 percent of all carbon dioxide emissions and 73 percent of electricity consumption, according to the U.S. Green Building Council. An ECPA project being implemented in three cities in the hemisphere aims to find effective ways to reduce energy use in municipal buildings.
The project underway in three municipalities—Goiânia, Brazil; Valdivia, Chile; and Port of Spain, Trinidad and Tobago—seeks to develop energy efficiency practices and policies that eventually could be applied in other cities and countries in Latin America and the Caribbean.
Florida International University (FIU) is managing the project, working with local partners in each target area to ensure that the most practical, relevant, and efficient solutions can be developed for each municipality.
Here's a look at some of the steps taken so far:
In Brazil, the Universidade Federal de Goias—FIU's local partner—will team up with the electric utility CELG to implement the ECPA project. The energy provider sets aside 0.5 percent of its total revenue to support energy reduction programs. Through this initiative, local efforts will be aligned with CELG's financing to fund energy reduction demonstrations through pilot projects. The first pilot project is scheduled to start operating in January 2016.
Goiania, Brazil. Meeting took place in Assessoria de Commercialiçao de Energia, from left to right first row, Camilo Rosales, AIA, Karla Emmanuela, Camila Pompeo, Pablo Paulse. Second row, CELG engineer and Eng. Sergio Dos Santos Junior.
In Chile, FIU partner Austral University received a $12,000 grant from the municipal government of Valdivia to test energy reduction strategies in its municipal office headquarters. This grant intends to help demonstrate the benefits of energy reduction and attract government funds for financing the rest of the Valdivia ECPA project.
In Trinidad and Tobago, meanwhile, FIU partner Energy Dynamics Limited (EDL) has been working on developing a local LEED green building code for new construction. This localized code—in line with the principles of Leadership in Energy and Environmental Design—will be presented for endorsement to a variety of building professionals and government employees. Since Trinidad and Tobago does not have a national or regional building code, the proposed green codes will be recommended as voluntary guidelines for new municipal buildings. In time, some of these guidelines could form the basis for national energy or sustainable development regulations.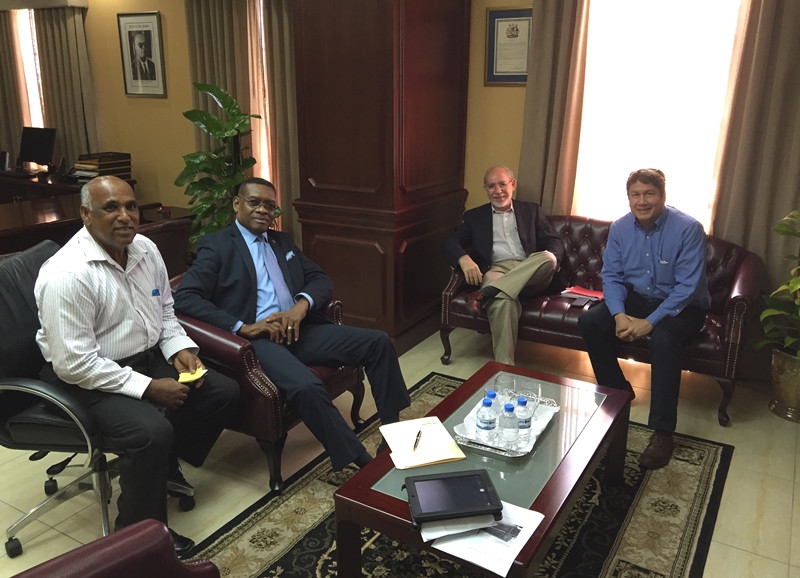 Port of Spain, Trinidad, Meeting in Mayor's Office, City Hall, Port of Spain, from left to right, Mr. Chanka David, Chief Engineer, City of Port of Spain; Mayor Raymond Tim Kee; Mr. Camilo Rosales, AIA, FIU ECPA Director; Mr. Andre Escalante, Principal Energy Dynamics Ltd.
By the end of this year and using pilot projects, EDL will also demonstrate how to use no-cost or low-cost strategies to achieve a 10-15 percent reduction in energy consumption in municipal buildings. By using energy sensors and daily monitoring of energy usage, EDL will devise the most suitable strategies for meeting the targeted reductions.