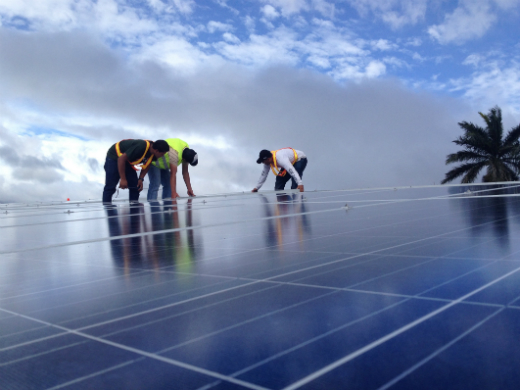 APSA boasts many success stories. Its biggest impact is the high number of solar PV systems deployed in homes and businesses across Central America and Mexico. In less than six months, program trainees installed more than 500 kilowatts of small solar systems in over 80 individual projects. This number is expected to reach as much as 2,000 kilowatts in over 100 projects by the end of 2014.
Solar installations are becoming a common feature of the region's landscape. Utilities, governments, and large corporations are deploying large systems of several megawatts. However, smaller systems are seldom available. APSA's biggest impact lies in the considerable number of small systems being deployed to provide energy services to households and small businesses. This ECPA initiative is building the capacity of small entrepreneurs to use technologies that until now were only deployed at a large scale. Through its trainees, APSA has had a huge impact on peoples' lives.
In Costa Rica, Leonardo Rapso and Edgar Ugalde have been working on installing solar electric systems in both residential and commercial settings. They installed a 65kW system for UNIBE University hospital, two residential systems of 10kW and 4.2kW, and three 7.2kW systems for a photography academy, a restaurant and a retail store.
In Guatemala, Jose Ordonez has been providing support for a project in Columba Costa Cuca, a community that has no access to the electric grid. The project is focused on giving a small solar electric system to 15 families to use for lighting, charging phones, and to provide light for children to do their homework in the evenings.
In Mexico, Rodrigo Pantoja has developed projects for apartment buildings, commercial retail, and a University. Rodrigo also installed 50 solar-powered streetlights using LED technology.
The impact of this initiative goes beyond curbing greenhouse gas emissions or promoting renewable energy technologies. Through its work, APSA has improved the livelihoods and quality of life of numerous families. To learn more about APSA and Solar Energy International's Spanish Program, contact the Program Manager, Matthew Harris, matthew@solarenergy.org.