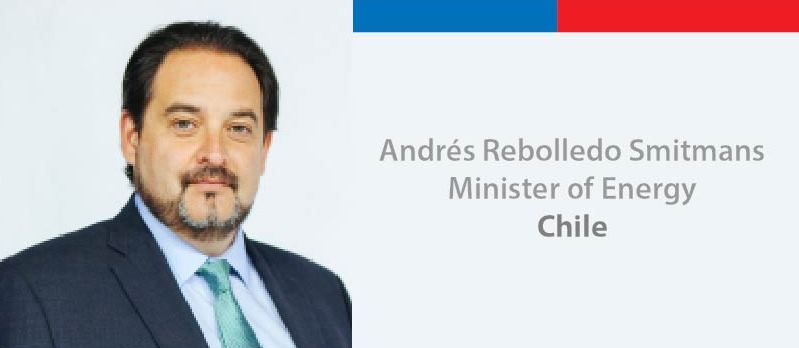 All across the Americas—a region with abundant renewable energy resources—countries are moving toward cleaner energy, driven by the urgency of a changing climate. The Energy and Climate Partnership of the Americas (ECPA) has helped shape our region's efforts to tackle a range of challenges we all share. Yes, we still have a long way to go. Yes, the Paris Agreement on climate change is still in its infancy. But we are moving in the right direction. The Third Ministerial Meeting of ECPA, which Chile will have the privilege of hosting in September 2017, will give us an opportunity to sharpen our priorities, strengthen our cooperation, and deepen our commitment to a transition to sustainable energy.
My own country has embarked on an ambitious energy path. As President Michelle Bachelet noted last month at the United Nations Climate Change Conference in Morocco, Chile's goal is to supply fully 70 percent of its power generation from renewable sources by 2050. We are firmly moving along this path, based on our nation's strong natural resources, which have made renewable energy competitive in itself. We are also implementing measures to address the effects of desertification and are creating a Climate Change Agency to coordinate mitigation and adaptation efforts and foster public-private partnerships in this area.
Chile is hardly alone in this regard. All our countries—from the Andes to the Caribbean, from Canada to the Southern Cone and everywhere in between—are taking steps to reduce greenhouse gas emissions and mitigate the effects of climate change that are increasingly upon us.
A partnership like ECPA enables us to go further. When we work together, we can build on each other's experiences, learn from our mistakes, explore strategies that prove effective, and improve the region's economic prospects. Through the Organization of American States (home to the ECPA technical coordination unit), we can forge closer political ties around climate and energy issues and raise public awareness about the importance of taking effective action.
In the last few years, dozens of energy projects have been implemented under the ECPA umbrella. These have focused on a range of initiatives that reflect the region's diversity of priorities: affordable electricity, sustainable cities, renewable biomass, cleaner industrial production, energy efficiency in municipal buildings, and on and on. Through ECPA, experts in our countries have attended workshops, participated in public discussions, and joined technical exchange missions, with which we have forged strategic alliances with academic institutions, nongovernmental organizations, the private sector, and multilateral banks.
ECPA grew out of a proposal that the U.S. put forth at the April 2009 Summit of the Americas in Port of Spain, Trinidad and Tobago. On this occasion, President Barack Obama highlighted that "our hemisphere has bountiful natural resources that could make renewable energy plentiful and sustainable, while creating jobs for our people." An Energy and Climate Partnership of the Americas, he added, "will help us learn from one another, share technologies, leverage investment, and maximize our comparative advantage."
Today we can say that the international commitment to clean energy has begun, both in our region and around the world. In her remarks to her fellow heads of state and government in Morocco, President Bachelet emphasized that the Paris Agreement's entry into force, on November 4 of this year, came much sooner than expected.
"This historic milestone indicates that transitioning to a low-carbon society is not only urgent; it is also a goal that is increasingly becoming a reality," she said. Furthermore, she called for quick, effective implementation of the climate agreement in a way that also achieves synergy with the United Nations Sustainable Development Goals.
Yes, that is a daunting task. Yes, it will require hard work and commitment. But the countries of the Americas are up to the challenge. The Third Ministerial Meeting in Chile, scheduled for September 7-8, 2017, will give our region the chance to take a few more steps in the right direction.