Countdown to the ECPA Ministerial—and to 2030
Thursday, January 23, 2020

With only 10 years to go to meet the 2030 Sustainable Development Goals—including the goal to ensure access to "affordable, reliable, sustainable and modern energy for all"—energy ministers from around the Americas will meet in Jamaica next month to look at some of the obstacles and opportunities ahead.
The Fourth Ministerial Meeting of the Energy and Climate Partnership of the Americas (ECPA) will focus on "Energy Resilience and Investment Opportunities"—an apt theme at a time when countries around the region are striving to become more energy-secure and meet ambitious goals on renewables.
Take the host country, for example. Jamaica used to have an official target of producing 30% of its electricity from renewable energy by 2030, but as Prime Minister Andrew Holness put it, "I believe we can do better." In late 2018, he announced a new target of 50%.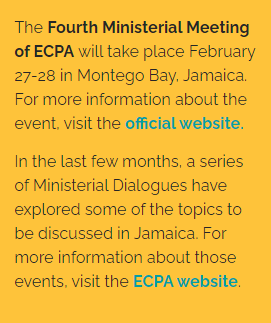 The momentum toward renewable energy is accelerating throughout the region, with solar, wind, geothermal, and other projects springing up across the Caribbean and North, Central, and South America. Natural gas projects are on the rise too, as countries seek to replace more-polluting fossil fuels like coal or fuel oil in their electricity mix. Energy efficiency is another critical area where countries are looking to make cost-effective gains.
These are just three of the topics that will be on the table as ministers and other high-level officials examine how to strengthen their cooperation on the priorities their countries have defined through the Energy and Climate Partnership of the Americas.
​
Other issues up for discussion
Creating a more resilient energy infrastructure so that countries can quickly recover from disasters such as hurricanes and prevent other disasters such as cyberattacks
Increasing electric mobility, whether through public transportation fleets or private vehicles
Expanding opportunities and reducing bias in the energy sector by shining a light on gender and energy
Tackling energy poverty, not only by ensuring access to electricity for everyone but by making the energy supply cleaner, more reliable, and more affordable
Strengthening regional energy integration to improve flexibility, resilience, and efficiency
Prime Minister Holness and the Secretary General of the Organization of American States (OAS), Luis Almagro, will be among the speakers at the opening ceremony, along with Jamaica's Minister of Foreign Affairs, Kamina Johnson Smith, and the Minister of Science, Energy and Technology, Fayval Williams. Top officials from the Inter-American Development Bank (IDB), the Caribbean Community (CARICOM), and the Central American Integration System (SICA) will also participate.
Given the critical role of the private sector in energy, one of the meeting's three plenary sessions will look at strategies to increase private investment in energy infrastructure. The session will feature a presentation by the Energy Working Group of the Americas Business Dialogue, an IDB-facilitated private sector initiative that fosters high-level policy dialogue and presents recommendations to the Summits of the Americas and other forums.
Delegations will also be able to schedule bilateral or small-group events with representatives of the Americas Business Dialogue to discuss opportunities for public-private collaboration, during a series of side events on February 27, before the official opening of the ministerial meeting.
Other side events will include panel discussions on specific aspects of the ECPA agenda. The OAS is organizing two of these events—one on joint efforts by the Central American countries and the Dominican Republic to develop a set of common energy efficiency standards for electric lighting products, and the other on the challenges of hardening infrastructure against natural disasters to ensure that critical systems can get back up and running as soon as possible.