The tour was organized under the auspices of ECPA to provide participating institutions with a first-hand experience of energy efficiency testing, verification, and certification. National bureaus of standards officials from the Caribbean visited the Intertek facilities in New York State, where they met with lab managers and experts.
Since 2016, the OAS implements a project geared toward advancing metrology for sustainable energy technologies and the environment in the Americas. The project contributes to strengthen the measuring capacities of institutions in charge of metrology in energy efficiency, renewable energy, air quality, and greenhouse gases. Activities are designed to expand the uptake of sustainable energy technologies and to foster low carbon growth in the Americas.
On June 20 and 21, representatives from the bureaus of standards of Belize, Jamaica, Saint Lucia and Trinidad and Tobago visited Intertek's facilities in Cortland, New York, to witness how an energy efficiency laboratory is managed, the manner in which energy efficiency testing, verification, and certification protocols are applied, the capital investment in human and material resources required, and the level of expertise demanded for a successful operation. Representatives from the Caribbean Regional Organisation for Standards and Quality (CROSQ), the CARICOM Secretariat, and the U.S. National Institute of Standards and Technology also participated in the event.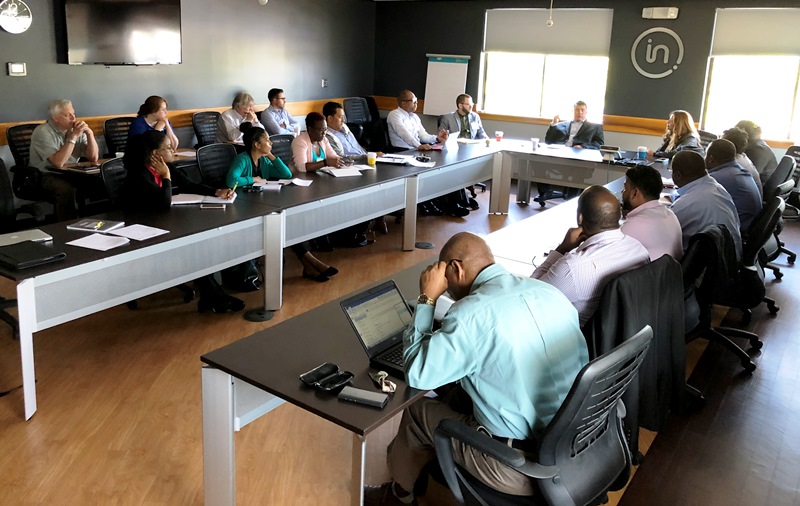 Intertek is also known as the Electrical Testing Laboratories (ETL), which was established in 1896 by Thomas Edison. Starting as a 60 person employee-owned company, today it employs 360 people working in 13 specialized departments, and testing products from all over the world. Participating bureaus of standards toured the Intertek facilities and interacted with its staff. They were exposed to the testing and certification protocols for household appliances, HVAC systems, and lighting fixtures implemented by this reputable laboratory.
At the end of the training, participants stated that the activity strengthened their knowledge on the management of an energy efficiency testing program. One participant stressed that "the lessons learnt will be important in designing a regional [Caribbean] program that can be accredited and provide the services needed to move the Caribbean forward." Commenting on the tour of the Intertek facilities, one participant said that "the visit helped to point out what is needed for a testing program to be successfully implemented."
During the event, the OAS discussed with the project partners and beneficiaries how private sector expertise can be best combined with regional efforts in testing, verification, compliance and certification protocols. Future activities are being planned to further interactions between the two sectors.