Bringing Good Energy to the Region's Energy Agenda
Tuesday, March 17, 2020

(Photos: MSET)
Diversification. Flexibility. Integration. Versatility. Nimbleness. These are just a few of the objectives that countries across the Americas are pursuing as they strive to become more energy-resilient and climate-smart. How best to do that was the focus of the Fourth Ministerial Meeting of the Energy and Climate Partnership of the Americas (ECPA), held in Montego Bay, Jamaica—which for two days in February was, as Prime Minister Andrew Holness put it, "the most energetic place on Earth."
"I just need to figure out how to convert that energy into electricity," he added, with a smile. Holness was the keynote speaker at the opening ceremony of the ministerial meeting, which brought together energy ministers and other high-level officials from 29 countries to discuss "Energy Resilience and Investment Opportunities."
---

"If we are agile, if we accept that there will be disruption and we put in place the policies and the measures to adapt, to mitigate, then we can turn the uncertainty of change, the risks of disruption, into opportunities of the future".
Jamaican Prime Minister Andrew Holness, speaking at the opening ceremony about the need for "a mindset change" to build resilience at a time when governments must respond not only to natural disasters and energy market disruptions but to pandemics and other crises.
---
Over the course of the two days, February 27 and 28, the delegations discussed topics as diverse as regional energy integration, energy poverty, and the role of natural gas at a time when renewable energy is on the rise. Other topics on the table included gender and energy, electric mobility, sustainable energy, and energy efficiency.
For the first time in the series of ECPA ministerial meetings, the agenda also included a plenary session with representatives of the private sector, who talked about how governments can lay a strong foundation for investment and innovation in energy. Jamaica's Minister of Energy, Science and Technology, Fayval Williams, who chaired the two days of sessions, called the dialogue with the private sector "engaging."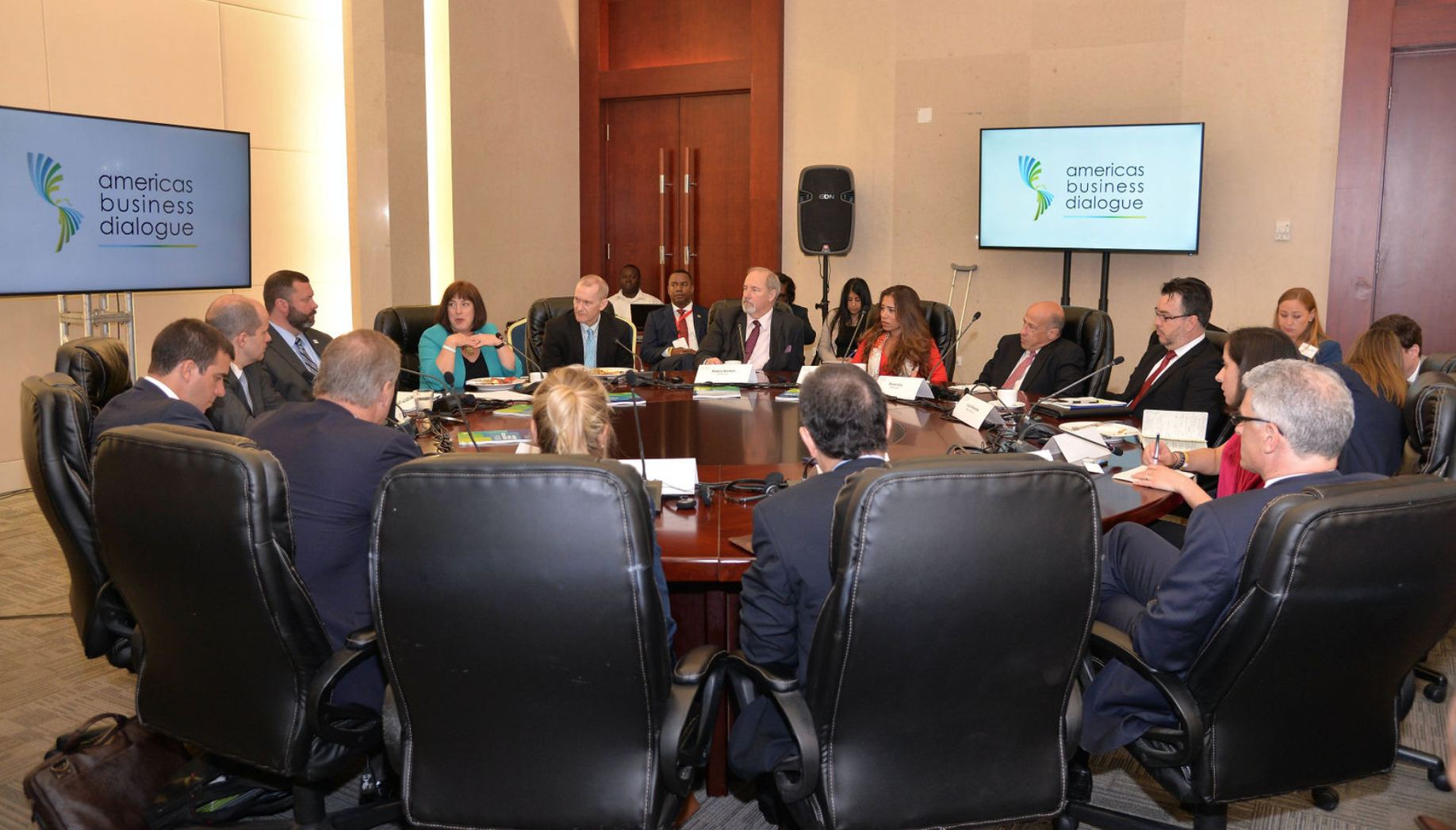 "They're very interested in this region," she said. "They see the investment possibilities." Williams also stressed the important role that international financial institutions can play in making innovative financing options available to countries that may want to upgrade their energy systems but have limited borrowing capacity.
In interviews for the ECPA newsletter, several heads of delegation noted that access to finance and investment can be a particular challenge for small countries that lack economies of scale. On the flip side, small economies can often be "more fleet of foot" than larger ones and able to more easily develop and implement aggressive policies—for example, to expand the use of renewable energy, according to Simon Stiell, Grenada's Minister for Climate Resilience, the Environment, Forestry, Fisheries, Disaster Management and Information.
The Caribbean island nations "have an opportunity within the region to be a global exemplar in terms of some of these progressive actions that are required to battle against the likes of climate change and other global challenges that we face," Stiell said.
---
​"Changing the energy paradigm to address the growing environmental and social demands for clean and affordable energy gives us a unique opportunity to strengthen the region's resilience to energy price shocks and to build an energy future based on indigenous resources."
–OAS Secretary General Luis Almagro.
---
Strength through Diversity
Diversification of energy sources is a central part of national strategies across the region. For many Caribbean countries, it's about overcoming a "fossil fuel addiction," as the Minister of Energy and Water Resources of Barbados, Wilfred Abrahams, described it.
Dependence on imported fossil fuels depletes island nations' foreign reserves, he said, and leaves electric grids vulnerable to outside forces, whether trade sanctions, volatile prices, or hurricanes. It doesn't even take a full-scale disaster, he added, noting that a recent weather system in the Atlantic produced above-normal swells and prevented ships carrying oil and gas to Barbados from coming into port for about 10 days.
"We were panicking, because had we run out of gas, had the utility run out of heavy fuel oil, then the system would have gone down," Abrahams said in an interview. By transitioning to renewables, he said, "we are in a better position to secure our own energy independence, and we can be certain that when we press the switch, the light will come on."
It's not just the Caribbean that has an eye on diversification. Brazil has been increasing the use of wind in the electricity sector and biofuels in the transport sector, as part of a long-term effort to diversify its energy mix. And many countries that rely heavily on hydroelectricity are adding in natural gas generation as a hedge against unpredictable rainfall patterns. Ecuador, for example, is planning a 1,000 MW combined cycle power plant in the coastal city of Guayaquil, in addition to adding more wind and solar generation.
Costa Rica, which meets more than 99% of its electricity needs with renewable resources, has been reducing its dependence on hydropower by incorporating other renewables into the mix. Geothermal energy now accounts for around 15% of the electricity Costa Rica produces and wind another 15%; biomass and solar are on the rise too, according to Deputy Energy Minister Rolando Castro Córdoba. He said the country is also exploring alternatives such as capturing energy from ocean currents and producing hydrogen for energy.
"We're continuing with that process of diversification to be more resilient to climate change," he said.
In every country, electricity generation systems need to be versatile, said Roberto Ordóñez, Honduras's Secretary of State for Energy. It's important to move toward greater use of renewable energy, he said, but also to guarantee enough firm capacity to cover power needs if reservoir levels drop and to fill in gaps when intermittent energy sources such as the sun and wind are not available. "That's what it's about, being prepared and being able to face these challenges," he said.   
The Benefits of Integration
Many countries see increased energy integration as another way to build resilience; when electric systems are interconnected and operate in close coordination, they can help balance out supply and demand. The United States and Canada, for example, have long had closely connected power grids, with dozens of major transmission lines along their shared border.
In Central America, six countries— Guatemala, El Salvador, Honduras, Nicaragua, Costa Rica, and Panama—now belong to an interconnected system, though efforts are still underway to develop a more robust integrated regional market.
---

"We have a considerable way to go to reach the last mile in building out our energy infrastructure across the region. We have a considerable way to go to reach the last mile in taking all of our people out of poverty by affording them access to clean and safe energy. We have a considerable way to go to reach the last mile in bridging the gender gap, to ensure that we leave no one behind."
–
Fayval Williams, Minister of Energy, Science and Technology, Jamaica.
---
Guatemala exports some of its excess electricity to El Salvador through this regional market, according to Guatemalan Minister of Energy and Mines Alberto Pimentel Mata; separately, it also sells power to Mexico. Pimentel hopes an interconnection with Belize will also be possible someday. (See related story, "The Power of Interconnectedness.")
The Andean region is also becoming more interconnected. Colombia and Ecuador already have integrated power grids, and Ecuador and Peru are planning to build high-power transmission lines to their respective borders to connect their systems. That interconnection is expected to be operational by early 2024, according to Ecuador's Deputy Minister for Electricity and Renewable Energy, Gonzalo Uquillas Vallejo.
Plans have been underway for years—with the support of the Inter-American Development Bank (IDB)— for a more extensive interconnected Andean system that would eventually include Bolivia and Chile. Late last year, energy authorities in Peru and Chile completed a feasibility study showing that a project connecting those two countries would bring mutual benefits.
Of course, it's not just about building transmission lines but also about creating the right technical, regulatory, and commercial frameworks, Uquillas said. It's important to "keep working to create a true competitive market for electricity that makes it possible to take advantage of how the different countries can complement each other," he added. 
Cooperation on the Rise
Delegates said an event like the Fourth ECPA Ministerial Meeting offers the opportunity for their countries to share information and good practices and identify areas for financial partnerships or technical cooperation.
"The challenges that we face are not unique to us as individual nations," said Stiell, of Grenada. "There are lessons to be shared, lessons to be learned from our neighbors." 
Stephenson King, Saint Lucia's Minister for Infrastructure, Ports, Energy and Labour, echoed that point. "There are numerous areas where we can cooperate—cooperate in terms of technology, cooperate in terms of indigenous energy and efficient supplies," he said, adding that cooperation in financing is also important, through regional or global institutions.
In one example of bilateral cooperation, Barbados recently signed an agreement with Trinidad and Tobago for joint oil and gas exploration and development in offshore areas between the two countries. It makes sense for Barbados to turn to a neighbor with 100 years of experience in the field, Abrahams said; Barbados, in turn, can share what it has learned about renewable energy, including electric mobility and solar energy, with other Caribbean countries.
Representatives of several Central American countries mentioned their close, ongoing collaboration, both on a bilateral and regional basis. For example, they have been working together to develop shared standards on energy efficiency, said Guadalupe González, Director of Electricity for Panama's National Secretariat of Energy.
She said the potential is there for even broader collaboration across Latin America, which has seen an upsurge in renewable energy in recent years. "We are setting increasingly higher goals for ourselves, which is laudable," González added.