What does it mean to become a more sustainable community? In a small island country like Saint Kitts and Nevis, it means that challenges such as marine conservation, beach protection, and resilience to natural hazards have a prominent place on the agenda, alongside more traditional urban concerns such as traffic congestion and waste reduction. All those issues and more were on the table when the 13th edition of the Sustainable Cities Course took place May 31-June 3 in Basseterre, the country's capital.
In opening remarks at the event, U.S. Ambassador Linda Swartz Tagliatela pointed out that this was the fifth Sustainable Cities Course to be held in a Caribbean country, following previous editions in Antigua and Barbuda, Barbados, Jamaica, and Trinidad and Tobago.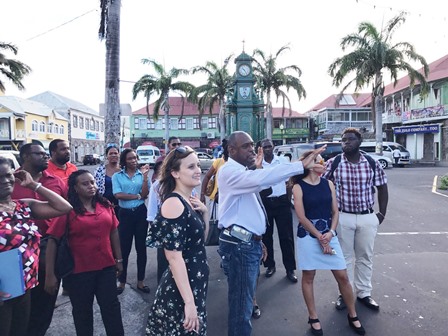 "What is most interesting is to learn of the challenges that decision makers overcome to proceed on the path to become low-carbon economies, and in the Caribbean specifically, how small island states become more resilient to natural hazards through integrated coastal zone management and urban planning," said the diplomat, who represents the United States in several Caribbean countries, including Saint Kitts and Nevis.
Shawn Richards, Deputy Prime Minister and Minister of Education, Youth, Sports and Culture of Saint Kitts and Nevis, was one of several high-level government officials who spoke at the event. The course was held in coordination with the Ministry of Sustainable Development and the Ministry of Tourism, as well as the Clarence Fitzroy Bryant College.
Among the 32 graduates were seven who received scholarships from the Organization of American States (OAS) to travel to the course from other countries: Brazil, Dominica, Ecuador, Jamaica, Mexico, Saint Lucia, and Saint Vincent and the Grenadines.
The course featured 24 speakers from different disciplines and was structured around six modules: Urban Sustainability, Smart Cities, and Civil Society Participation Roundtable; Waste Management, Recycling, and Water Resource Management; Sustainable Land Use, Zoning, Transport, and Mobility; Resilience to Natural Hazards; Built Environment and Sustainability; and Renewable Energy and Energy Efficiency in the Context of Sustainable Cities.
Participants also learned about two demonstration projects that had been implemented in Saint Kitts and Nevis under a technical assistance and small-grants initiative called Sustainable Communities in Central America and the Caribbean. (See "Building Sustainable Communities" for an overview of the initiative.)
One of these local projects, implemented by the Clarence Fitzroy Bryant College, focused on "Sustainable Transport Solutions in Basseterre"; it included improved access for pedestrians and bicycles in the capital city, which has a population of about 13,000. Course participants got to see some of the results firsthand on an urban tour led by Leighton Naraine, the college's Director of Employee and Program Development, who also covered such topics as traffic management, street vending, architecture, and historic preservation.
Another field trip took participants to Kittitian Hill to visit an organic farm that uses no pesticides or non-organic fertilizers and is applying sustainable practices in its use of land, water, and electricity. The visit also offered a glimpse into local issues involving hazards and resilience in a place where crops and forests grow on steep slopes.
The second demonstration project under the Sustainable Communities initiative, called "Building Resilience to Natural Hazards One Community at a Time," was implemented by Hope Nevis Inc. and focused on enhancing community education and preparedness in each of that island's five parishes. Course participants discussed the project but were unable to travel to Nevis.
Participants also discussed watershed management issues related to another project, "Evaluating Risks to the Newcastle Bay Lagoon from Anthropogenic Factors." The OAS commissioned Caribbean Development and Environmental Consultants, Inc. to work on the project in collaboration with the Saint Kitts and Nevis Department of Fisheries and the Department of Physical Planning, Natural Resources and Environment. The project evaluated the risks to the Newcastle Bay Lagoon and, by extension, the proposed Narrows Marine Protected Area, and recommended strategies to mitigate the risks.
OAS Sustainable Cities Courses have been offered since 2013, under the umbrella of the Energy and Climate Partnership of the Americas (ECPA), with funding from the U.S. government and support from local partners. (See related stories in this issue.)