ECPA Ministerial Dialogue Series: Challenges and Opportunities for Electric Mobility in the Americas
In preparation for the IV Energy and Climate Partnership of the Americas (ECPA) Ministerial that will convene in Montego Bay, Jamaica, on February 27-28, 2020, the OAS will convene a series of Ministerial dialogues. The purpose of these events is to seek the input and advice of Permanent Missions, international development agencies, multilateral organizations, and the diplomatic corps at large headquartered in Washington as the delegations of the 34 OAS member States prepare to convene in Montego Bay. The first of this dialogue series will focus on electric mobility in the Americas.
The number of electric vehicles (EVs) worldwide is growing exponentially, from 1 million units sold in 2015, according to the International Energy Agency, to 5.4 million in 2018, according to the Electric Vehicle World Sales Database. Although the United States, Asia, and Western Europe are leading this transition, in Latin America and the Caribbean, countries such as Barbados, Brazil, Chile, Colombia, Costa Rica, Mexico, and Uruguay are rolling out landmark initiatives to advance electric mobility.
The Americas power sector is one of the cleanest in the world —more than 50 percent of the electricity it generates comes from renewable sources, particularly hydro, wind and solar. On the other hand, the transportation sector is the most significant and growing contributor to particulate air pollution and other gas emissions. The region's vehicle fleet could triple over the next 25 years, which will exacerbate stresses on already overburdened road infrastructures in cities and bring about a proportional increase of pollutants.
In a region where more than 525 million people —80 percent of the total population— live in cities, the transition towards electric mobility, especially in public and mass transport, provides a unique opportunity to advance a cleaner, energy-efficient transportation sector, build-up resilience, improve air quality, and help countries curtail their exposure to volatile oil prices.
The Ministerial dialogue will provide a space to discuss experiences, policy options, and technologies to ignite smart transportation in the Americas.
Follow this event on Twitter at #DialogoTransporte and @ecpamericas, @The_Dialogue.
Welcome and Introduction
Section Chief- Energy and Climate Change, Organization of American States (OAS) (@jcmonticelli)
ROBERT HONEYGHAN
Representing Ambassador Audrey P. Marks, Community Relations Officer (CRO) – Embassy of Jamaica
SPEAKERS
Keynote speaker 
MARK SMITH
Technology Integration Program Manager, Vehicle Technologies Office, U.S. Department of Energy
New and Innovative Advanced Vehicle Technologies Strategies to strengthen energy security, enable economic growth, and increase efficient transportation
Section Chief- Energy and Climate Change, Organization of American States (OAS) (@jcmonticelli)
Program Director, Energy, Climate Change & Extractive Industries, Inter-American Dialogue (@lviscidi)
CARLOS MOJICA
Urban Transport Senior Specialist, Inter-American Development Bank
Head, Government and External Affairs for Latin America and the Caribbean, BMW Group
Global Senior Manager, Electric Vehicles, World Resources Institute
IN PARTNERSHIP WITH:
Related documents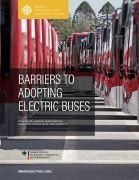 Barriers to Adopting Electric Buses
by Ryan Sclar, Camron Gorguinpour, Sebastian Castellanos and Xiangyi Li – May 2019
by Xiangyi Li, Camron Gorguinpour, Ryan Sclar and Sebastian Castellanos – May 2019
Charging Ahead: The Growth of Electric Car and Bus Markets in Latin American Cities
by Guys Edwards, Lisa Viscidi & Carlos Mojica – Sep 11 2018
Section Chief- Energy and Climate Change, Organization of American States (OAS) (@jcmonticelli)
Section Chief- Energy and Climate Change, Organization of American States (OAS) (@jcmonticelli)